The Micro Key management series of applications uses Native DB connections that can be defined by the ConnManager.exe application. This is just a brief guide that may help someone understand how our applications connect to the Sql server and it may be used to compare a working system i.e. a PC that is able to connect and run any Micro Key applications too a PC that may not be able to connect.

This executable can normally be found under the following folder:
C:\Program Files(x86)\MKS\MKMS - you may only have to change the drive letter depending on your particular setup. It is best to run this application as an administrative account so that it can create the correct connection keys in the proper location in the registry. After the program loads you should see the names of the databases that are presently being used in your system. Most systems will have at least MKMS and MKMSDefault records shown. If you have multiple company databases you may see more. Each record has it's own set of settings - to view those settings highlight a row and either double click the entry or click Edit from the navigation bar.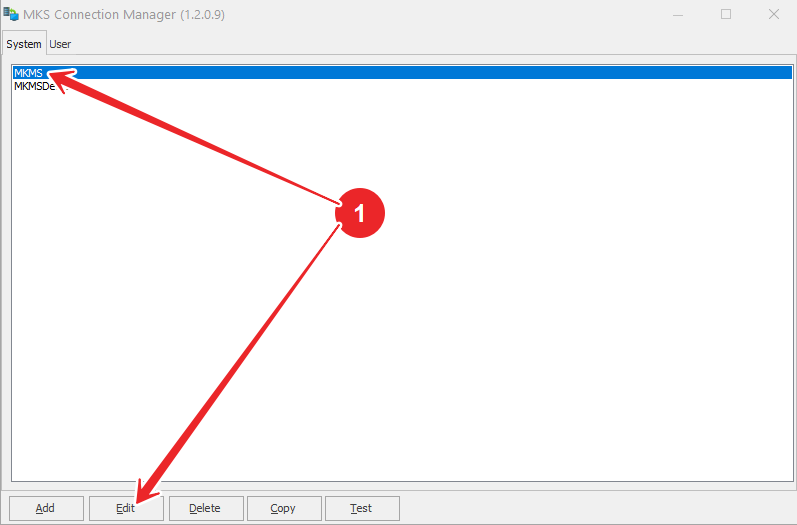 Once you have opened a settings you will see a form as shown below: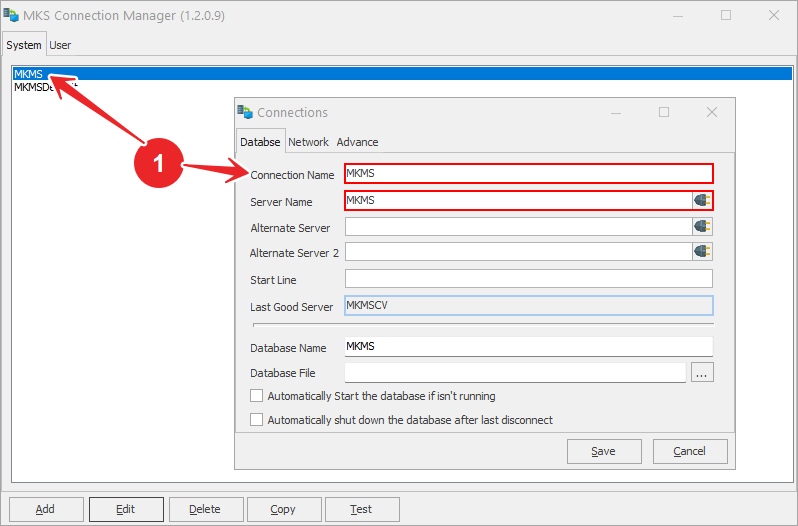 The Connection name is what creates the record in the first screen - these name will match. The server name normally is MKMS - yours may be different but you can verify this by comparing these settings on a machine that is known to be working. - these settings shown are the minimum for successfully connection to Micro Key Sql server. Click the Network Tab to verify 'HOW' this PC wil make it's connection to the Micro Key Sql server.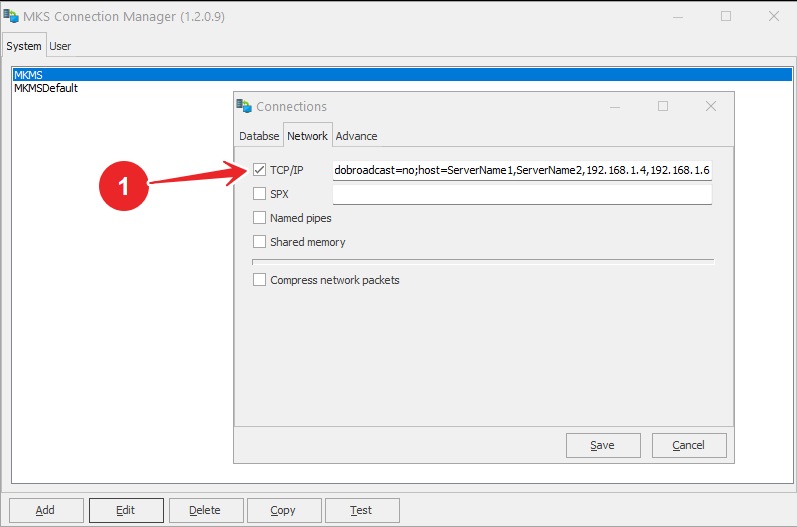 The most important field is the one highlighted above, the TCP/IP field tells our software how to get connected to the Micro Key Sql server. So, there are also shown a couple parameter options that most of the time are not required but in some cases where resources exist on separate networks you may be required to further define how the settings behave.

dobroadcast=no - tells the software that is isn't necessary to do a broadcast to locate the server which may suggest that it may be on a separate network and broadcast traffic is usually isolated to the local area network. host= is the parameter to tell the software how to get to the desired server on the network. Either DNS names or IP addresses can be used. In this example I have both names and IP addresses separated by a comma.

The last tab Advance - should reflect the version of Sybase installed on the PC, by now most everyone should be on at least Sybase 17.